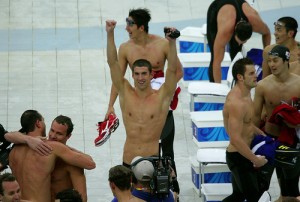 Coming in at number three in sportpunter's Top 10 sportspeople of the last decade is American swimming sensation Michael Phelps.
Phelps' record in the pool is unprecedented and totally extraordinary. He has won 14 Olympic gold medals which is the most by any individual, a staggering 5 above the next best – Russian gymnast Larissa Latynina. But it was his performance in Beijing that really made him stand out. His eight gold medals was the most that anyone had ever won in any Olympic games, overtaking the previous best of seven by fellow American swimmer Mark Spitz.
Mark Spitz had this to say about Phelps:
Epic. It goes to show you that not only is this guy the greatest swimmer of all time and the greatest Olympian of all time, he's maybe the greatest athlete of all time. He's the greatest racer who ever walked the planet.
Rare praise indeed. But it wasn't only in Beijing where he shined. Four years previous at Athens, Phelps won six gold medals and 2 bronze. And his record at the world championships are not to be taken lightly either.
In 2003, 2005, 2007 and 2009 he has won a tally of 21 gold medals and 4 silver. In 2007 he won seven straight gold medals, and was competing for the eighth gold medal in the 4 x 100m medley relay, but his team was disqualified after a false start in the semi-finals.
Phelps didn't just win races, he smashed them. Time and time again Phelps destroyed previous best world records. At the 2003 World Championships he broke 3 world records. In Athens he broke 2 world records and 3 Olympic records. The 2007 world championships saw him break 5 world records from his seven gold. In his eight gold medal haul at the last Olympics, seven of them were new world records with the other gold an Olympic record. And at the 2009 world championships, four of his five gold medals were in world record time.
Of course swimming is well known for breaking world records, and part of the reason for this is new technology. Full length body suits are helping swimmers smash records and Michael Phelps' coach believes that a full suit is worth in excess of 1.5 seconds. He knows this because recently German swimmer Paul Biedermann, in full dress, defeated Phelps by 1.22 seconds.
FINA announced that it was going to go back to 20 years ago and make swimmers wear old style costumes because swimmers were winning largely because of their suit. Phelps, who swims topless, said that the sport now is "not swimming, I am looking forward to the day when we are able to call our sport swimming again."
Phelps is against the new swimming technology and for even competition amongst competitors. Despite the controversy, Phelps is one in a million. He won the World Swimmer of the year award in 2003, 2004, 2006, 2007 and 2008. In 2005 the judges must of got sick of Phelps, awarding the award to Grant Hacket who achieved three gold, 1 silver and 1 bronze and the 2005 championships as opposed to Phelps' five gold and 1 silver.
Who can blame them really? It's annoying when the same person wins all the time. I showed with previous top 10 sportspeople of the decade how sports get predictable and almost boring when the same people win all the time. Phelps is one of them. Who constantly keeps getting gold and smashing world records and well deserves to make the top 10 sportspeople of the decade.
But wait till you see the top two. Predictable they are. Boring they are not. Dominant and Elite, they are. Who will they be and who will be number one?
Previous Top 10 Sportspeople
10. Shaquille O'Neal