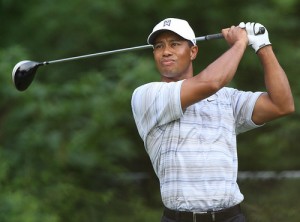 Coming in at number two in sportpunter's Top 10 sportspeople of the last decade is American golfer Tiger Woods.
Eldrick "Tiger" Woods has won in total 71 PGA Tour events, the third highest of all time, and 14 major golf tournaments, four behind legend Jack Nicklaus. Since 1986, when gold rankings appeared, he has accumulated the most number of weeks at number 1 position, a total of 576 weeks. He currently is ranked number 1 in the world and has held that position since June 12 2005.
Awards for his success seems to follow. He has been awarded PGA player of the year for a record ten times, The Bryon Nelson award (lowest average score) a record eight times and has led the money earning list in the golf calendar year for a record nine seasons.
Along with all this success comes a fairly hefty pay check. In the year 2008 he was the worlds highest earning athlete, earning approximately $110 Million from winnings and endorsements.
Whilst Woods announced himself on the playing field in 1999/2000, winning five tournaments in a row, it was his sixth victory in a row at the Pebble Beach that was to be mostly remembered. Woods was behind by seven shots with only seven holes to play. He achieved four under par for the last four holes to record a massive come from behind two stroke victory.
In the same year at the 2000 US Open, Woods led by ten shots coming into the final round. Even the Open Championship of the same year, Woods won by eight shots. He continued to win the 2000 PGA Championship after coming from behind again, making seven under par from his last 12 holes. He joined Ben Hogan as being the only player in golf history to win three major tournaments in any calendar year.
Woods hadn't just announced his appearance, he told everybody else they had better catch up to his standards. Never before had odds for a player to win a golf tournament been so low. Woods dramatically popularised the sport, and being one of the only black people to grace the courses, opened up a completely new demographic into watching and playing.
It didn't stop there. 2001 saw him win the Masters, which meant he was the only person of all time that had held all four major golf championships at the one time. 2002 saw Woods defend his Masters title, but the following couple of years Woods took a little slump.
In changing some small adjustments to his swing to reduce stress on one of his knees, he fell behind Vijay Singh who overtook Woods on the money list and Golf Rankings.
He bounced back in 2005, but in 2006 his father and long term mentor died. Woods took some time off and then came back and failed to make the cut at the US Open. This being the first time in his career and broke the record of 39 consecutive cuts made at major championships.
However he came back again to win the PGA Championship and Open Championship that same year.
Of course sometimes greats can slip up. On November 27, 2009, Woods was taken to hospital after an early morning car accident near his home. His car ran into a fire hydrant and tree at a speed less than 33mph. Woods retired from his own charity golf tournament and any other tournament for the rest of the year. After the press has got a hold of certain "family" matters, Woods apologist to the public and his wife for certain "transgressions."
Shortly we will be making a list of the top 10 sports scandals of the last decade. Perhaps this one will make it?
Either way, Woods has dominated the sport, changed the way the game is played and that tells me that he is a worthy pick for the top 10 sportspeople of the last decade. So who will be number one? Tomorrow we shall see.
Previous Top 10 Sportspeople
10. Shaquille O'Neal