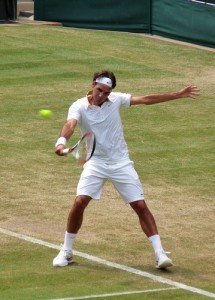 The number one sportsperson of the last ten years is none other than Swiss champion Roger Federer. It's taken a lot of research and heated discussion amongst friends, but sportpunter believes that the Fed is well deserved of the number one position. Let me tell you why.
Roger Federer has won a record 15 Grand Slams, breaking the record of 14 held by Pete Sampras at Wimbledon in 2009. He is only one of six tennis players to achieve a career grand slam which is winning at least one of every major tennis tournament. He achieved this after winning the French Open this year. Federer and Agassi are the only two players to achieve this feat in the open era.
Since 2003 Federer has won at least one grand slam in every single year. He has reached the grand slam final 21 times, more than any other player, and is currently on a roll of reaching the semi-finals or better in his last 22 grand slams. That roll goes back to the Wimbledon in 2004. He has reached the final in 17 of the last 18 grand slams.
Federer is currently ranked number one in the world, and held that status for an all time record of 237 weeks from February 2004 to August 2008. Steffi Graf has the next longest streak with 186 consecutive weeks.
His record on the green top is spectacular. He equalled Bjorn Borg's record of winning the most consecutive Wimbledon's in the open era from 2003 to 2007. From 2002 to 2008 Federer did not lose a game in grass. Sixty-five matches in a row.
Along with the success comes the money and awards. He has made the most prize money than any other tennis player, and has been awarded the Laurens Sportsman of the year four times since the year 2000 (other winners were Tiger Woods and Michael Schumacher twice, Lance Armstrong and Usain Bolt once).
Every one of his grand slam victories were in the last decade. Federer is, in sportpunter's opinion, the best sportsperson in the last ten years. Who do you think was the best sportsperson this decade? Make your comments below.
The next article will be the people who missed out on the top then and why.
Check out Sportpunter's tennis betting model and record here.
Previous Top 10 Sportspeople
2. Tiger Woods
10. Shaquille O'Neal