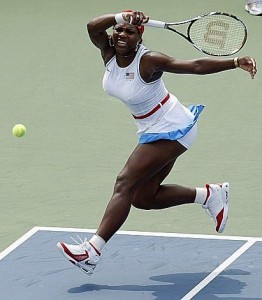 Coming in at number 8 for the best sportsperson of the last decade is American tennis ace Serena Williams.
Currently ranked number one in the world, Serena Williams is the younger sister of Venus who has dominated the female tennis tour in the 2000s. In total she has won a staggering 23 grand slams and 2 Olympic gold medals. Ten of these grand slams have been in the last decade in singles tournaments. This makes her equal 9th on the all time number of grand slam wins for a female, and equal 4th with Margaret Court with the most number of singles grand slam victories in the open era. She currently holds both the singles and doubles trophies for the Australian Open and Wimbledon.
Of course with so many victories, comes quite a lot of money. Serena has gained more prize money than any other female athlete in any sport. That's right, she's even made more money than Laila Ali! In 2009, Serena became the first person to make a cool six million dollars in a single year. And that doesn't include endorsements.
Between 2002 and 2003 she won 5 of 6 grand slam tournaments that she entered. For four grand slams in a row (France 2002, Wimbledon 2002, US Open 2002 and Australian Open 2002) Serena and her sister Venus met in all singles grand slam finals. This made the sport kind of boring for a while, which is credit to Serena and Venus. I mean who wants to sit down and watch tennis all day when we already know the end result? Thanks god for Maria Sharapova, who entered the tennis tour around this time and made tennis worthwhile watching again, for maybe different reasons.
Speaking of worthwhile watching, Serena has also fancied herself as a bit of a fashion guru. Her cat suit at the 2002 US Open definitely turned plenty of eyes. It's just a pity that Ana Ivanovic didn't think of something earlier. I guess there is still time. Her demin skirt and boots at the US Open in 2004 were also grabbed people's attention. I'm not sure if she was intending to play tennis or hit the town. Interestingly, she failed to be victorious at both those two tournaments.
Yet despite this Serena has shown her dominance in the female tennis circuit and, in my opinion, is well worthy of making the top ten sportspeople in the last decade.  Do you think Serena should have made the list? What other females will make the top 10? And will tennis great Roger Federer rank higher? Make sure you comment below.
Previous Top 10 Sportspeople:
10. Shaquille O'Neal