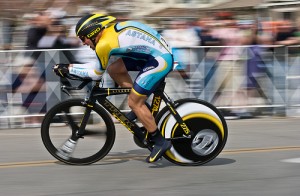 Coming in at number four in sportpunter's Top 10 sportspeople of the decade is American cyclist Lance Armstrong.
Armstrong started his career as a tri-athlete. In 1989 and 1990 when Armstrong was just 18 and 19, he was the American national sprint-course triathlon champion. However he soon noticed that it was his cycling that was his greatest asset and in 1993 he was one of the youngest riders to win the UCI Road World Championship.
At the USPRO championship, Armstrong, on the final lap, took out a comb from his pocket, combed his hair and smiled for the cameras.
His performances in 1996 suddenly were not up to his usual standard, and on October 2nd, 1996, at age 25, Armstrong was diagnosed with testicular cancer. So advanced was the caner that it had spread to his lungs, abdomen and brain. His doctor suggested that Armstrong had at best a 40% chance of survival.
Not only did Armstrong survive, but he came back fit and determined. In 1999 Armstrong won his first Tour de France by a whopping 7 minutes 37 seconds. However world class cyclists Jan Ullrich and Marco Pantani were not racing due to injuries and drug allegations.
They both raced in 2000, and Armstrong won the Tour de France that year as well, defeating Ullrich by just over six minutes. And it never really stopped from there. Armstrong won every single Tour de France up until 2005, being the first person to win the event seven years in a row. He had a brief comeback in 2009 where he finished in third position.
Being a sport that has been rife with drug allegations and the fact that Armstrong was so dominant, it came no surprise that Armstrong himself was accused of cheating. Armstrong of course has always denied taking performance-enhancing drugs, claiming that he is "the most tested athlete in the world."
Well maybe outside Ben Cousins. But either way, the ability to come back from a life threatening disease to not only live successfully but compete successfully and be the greatest ever Tour de France competitor is an amazing feat. Some would say his greatest accomplishment was being able to date Sheryl Crow and Kate Hudson. Indeed there would be many men envious of that achievement, but many more would be envious of his cycling records. Sure he had a team to support him, but no other man in history has won so many Tour de France's, and no other man has done it with such dominance.
Previous Top 10 Sportspeople
10. Shaquille O'Neal