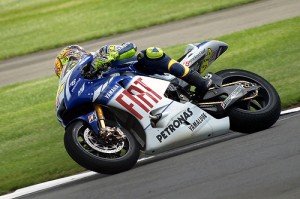 Coming in at number 5 for the best sportsperson of the last decade is Italian motorbike racer Valentino Rossi.
Rossi burst into the motorcycling racing scene in the year 2000 where he finished second in the 500cc in his first year at that level. Inspired and motivated by Australian racer Mick Doohan, Rossi went on to win the last 500cc tournament in 2001, one of many championships to come.
MotoGP was introduced in 2002, and whilst most racers experienced difficulties with their bikes, Rossi did not. He went on to win eight of the first nine races to blow the championship out the water. He didn't hold up there, winning in 2003, 2004 and 2005.
But it was his surprise move in 2004 that many see Rossi as one of the worlds best sportspeople in the world today. After finishing up a contract with Honda, Rossi signed to a 2 year contract with Yamaha. Critics of Rossi heralded the end to his dominance, stating that it would be impossible for him to win another championship on a far inferior machine. But he won the championship again in 2004 and backed that up with another championship win, perhaps his finest, with 11 wins and 16 podiums from 17 races, in 2005.
Rossi, on why he decided to change to an inferior bike said in his autobiography "What if I'd never tried it?" Such ability made me place Rossi higher up the ladder of the top ten sportspeople of the decade that Michael Schumacher who had this to say about driving an inferior machine: "It was like trying to fight with a blunted weapon…If your weapons are weak you don't have a chance"
Rossi indeed, had some blunted weapons the next couple of years as he struggled a little to come to grips with his new upgraded Yamaha. He still managed to finish second and third in 2006 and 2007 respectively, but he came back strong in 2008 and 2009, winning championships in both those years.
In all Rossi had claimed champion in seven of the ten years of the past decade and is one of the biggest paid sportspeople in the world to date with an estimated return of US$34 Million this year.
If only the Italians could make a motorbike that is at least comparable to the Japanese, and every Italian would be drooling over the prospect of seeing Rossi on a Ducati.
Previous Top 10 Sportspeople
10. Shaquille O'Neal