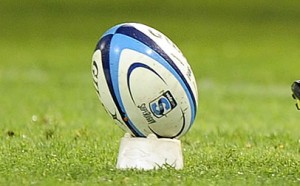 The 2012 season of Super 15s rugby starts today, and predictions are free on the website. This year is our tenth year of predictions on the Sportpunter website, and with over 500 bets in that time we have made a very impressive 7% ROI. Last year alone we made 86 bets with a profit of 11.4% ROI, so hopefully the good profits will continue.
I've also done a bit of analysis about how the model has gone for certain rounds of the year.  The analysis is shown below with results added up since 2004. Clearly it shows that the first few rounds of betting are very profitable. Rounds 5 to 9 showed a loss, followed by mid year profits again.
Personally, I wouldn't read a lot into below. The fact that rounds 5 to 9 is not profitable is most likely due to random variation as the number of bets is not huge. The same could also be said of the first 4 rounds, however there is enough evidence I believe to say that the model has just as much chance to be profitable in the early rounds as any other round. No need to wait a few weeks to see how the model goes.
Predictions will be up on the website every Friday at Noon Australian Eastern standard time, so make sure that you take a spoil of the winnings!
Click here for all the free predictions
| | | | |
| --- | --- | --- | --- |
| Round | $Bet | $Profit | %ROI |
| 1 | $7,839.10 |  $     333.43 | 4% |
| 2 | $6,684.79 |  $        57.25 | 1% |
| 3 | $6,203.77 |  $  1,356.86 | 22% |
| 4 | $7,151.97 |  $  2,279.63 | 32% |
| 5 | $5,402.55 | -$     952.32 | -18% |
| 6 | $5,781.51 | -$     439.99 | -8% |
| 7 | $6,062.96 | -$     467.95 | -8% |
| 8 | $6,544.03 | -$     323.71 | -5% |
| 9 | $5,160.99 | -$ 1,182.74 | -23% |
| 10 | $3,758.33 |  $     522.08 | 14% |
| 11 | $4,972.25 |  $  2,833.07 | 57% |
| 12 | $4,724.81 |  $     880.80 | 19% |
| 13 | $3,068.83 |  $  2,646.32 | 86% |
| 14 | $2,116.83 | -$     211.37 | -10% |
| 15 | $1,683.91 |  $     135.64 | 8% |
| 16 | $1,067.64 | -$     868.90 | -81% |
| 17 | $932.27 | -$     149.49 | -16% |
| 18 | $1,290.19 |  $     127.90 | 10% |
| 19 | $250.94 | -$     250.94 | -100% |
| 20 | $413.86 | -$     287.35 | -69% |