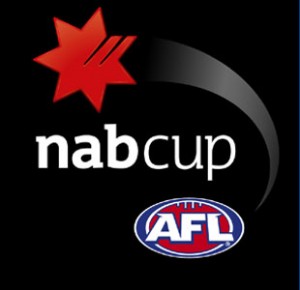 Betfair have a new multi betting option available here: http://ausmultis.betfair.com/
But there are some opportunities involved for the NAB Cup. Very rarely do sports teams play two matches on the one day, and one can assume that there should be some form of dependence on the two events. In other words, if a particular team were to win the first of their two matches, then they are probably more likely to win the second.
This indeed occurred last year, where in the 6 groups, 4 teams won both their matches, where as two teams (Essendon and st. Kilda) would have paid out at half ticket price due to their draw.
But according to the multi's at betfair, you can multi these up and multiply the odds together. More surprisingly, is that you can multi a win for a particular match with a team winning the NAB cup.
That surely is not independent.
Whilst, one has to make up for the overround of the bookmakers, there might be some value here using this method. Something to keep in mind.
Sportpunter's AFL model subscription is available now. Click here for details