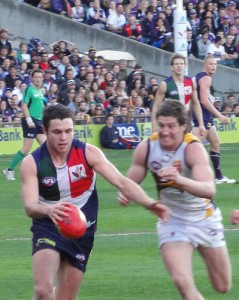 AFL Football is back, and this Thursday kicks off the start of the AFL season with Carlton playing Richmond.
But of course, the big news is is that Sportpunter will once again be releasing top quality sports predictions for every single game. AFL is arguably Sportpunter's best model and the results speak for themselves. As shown here, we have been predicting AFL since 1999 and have averaged 11.2% ROI. The last two years, and three of the last four years have averaged over 20% ROI. 2010 was the most profitable year since we started betting and so there is no reason why the results will not, once again, come in our favour.
Currently we have the season predictions up on the website with probability of premiership, final 4, final 8 and wooden spoon. We also believe we have a good grasp on the new team Gold Coast who enter the competition fresh this year.
If ever you are going to join up to a Sportpunter model, then the AFL model is the one! Even if you don't understand anything about AFL football in Australia, simply just follow the bets as suggested and watch the profits come in.
To sign up or view the prices to Sportpunter's AFL Model in 2011 click here.
Shown below is a full analysis of how the AFL Model has gone. It shows that betting on home teams does better than betting on teams playing away. It also seems to be profitable in all sorts of probability and odds ranges. Whats more, is that the greater the overlay, the greater the profit, with over 20% ROI being made when the overlay is greater than 40%. A minimum overlay of 7.5%, instead of the standard 5% could be a reasonable alternative.
| Prob | | #Bets | #Won | %Won | $Bet | $Profit | %ROI |
| --- | --- | --- | --- | --- | --- | --- | --- |
| 0 | 0.1 | 7 | 0 | 0.0% | $111.18 | -$111.18 | -100.0% |
| 0.1 | 0.2 | 58 | 6 | 10.3% | $2,528.65 | $634.23 | 25.1% |
| 0.2 | 0.3 | 130 | 32 | 24.6% | $8,992.28 | $2,059.84 | 22.9% |
| 0.3 | 0.4 | 197 | 65 | 33.0% | $19,927.51 | $3,877.75 | 19.5% |
| 0.4 | 0.5 | 201 | 88 | 43.8% | $26,281.72 | $4,551.84 | 17.3% |
| 0.5 | 0.6 | 263 | 134 | 51.0% | $43,517.53 | $4,360.87 | 10.0% |
| 0.6 | 0.7 | 246 | 133 | 54.1% | $51,745.34 | $338.76 | 0.7% |
| 0.7 | 0.8 | 212 | 154 | 72.6% | $58,648.92 | $9,756.58 | 16.6% |
| 0.8 | 0.9 | 129 | 107 | 82.9% | $49,961.75 | $7,750.18 | 15.5% |
| 0.9 | 1 | 20 | 19 | 95.0% | $11,086.78 | $1,236.91 | 11.2% |
| | | 1463 | 738 | 50.4% | $272,801.67 | $34,455.78 | 12.6% |
| | | | | | | | |
| Odds | | #Bets | #Won | %Won | $Bet | $Profit | %ROI |
| 1 | 1.4 | 123 | 106 | 86.2% | $42,406.54 | $4,629.21 | 10.9% |
| 1.4 | 1.6 | 159 | 116 | 73.0% | $43,970.40 | $5,310.43 | 12.1% |
| 1.6 | 1.8 | 178 | 117 | 65.7% | $41,173.59 | $7,444.07 | 18.1% |
| 1.8 | 2 | 150 | 81 | 54.0% | $29,814.39 | $653.78 | 2.2% |
| 2 | 2.2 | 122 | 67 | 54.9% | $21,850.79 | $3,084.80 | 14.1% |
| 2.2 | 2.5 | 145 | 69 | 47.6% | $25,874.51 | -$427.90 | -1.7% |
| 2.5 | 3 | 139 | 65 | 46.8% | $20,236.77 | $7,007.44 | 34.6% |
| 3 | 3.5 | 121 | 41 | 33.9% | $15,804.68 | $2,594.31 | 16.4% |
| 3.5 | 5 | 178 | 52 | 29.2% | $20,038.19 | $1,990.83 | 9.9% |
| 5 | 20 | 148 | 24 | 16.2% | $11,631.81 | $2,168.80 | 18.6% |
| | | 1463 | 738 | 50.4% | $272,801.67 | $34,455.78 | 12.6% |
| | | | | | | | |
| Overlay | | #Bets | #Won | %Won | $Bet | $Profit | %ROI |
| 0 | 0.075 | 192 | 107 | 55.7% | $24,292.16 | -$570.58 | -2.3% |
| 0.075 | 0.1 | 180 | 114 | 63.3% | $24,788.55 | $3,607.46 | 14.6% |
| 0.1 | 0.125 | 141 | 84 | 59.6% | $24,597.76 | $3,781.07 | 15.4% |
| 0.125 | 0.15 | 128 | 71 | 55.5% | $23,160.13 | $1,286.12 | 5.6% |
| 0.15 | 0.2 | 197 | 110 | 55.8% | $36,976.66 | $6,477.74 | 17.5% |
| 0.2 | 0.25 | 128 | 58 | 45.3% | $24,002.37 | $2,974.78 | 12.4% |
| 0.25 | 0.3 | 131 | 62 | 47.3% | $30,027.60 | $2,952.85 | 9.8% |
| 0.3 | 0.4 | 152 | 57 | 37.5% | $34,848.27 | $1,368.33 | 3.9% |
| 0.4 | 0.6 | 135 | 52 | 38.5% | $31,108.35 | $8,733.69 | 28.1% |
| 0.6 | 3 | 79 | 23 | 29.1% | $18,999.83 | $3,844.32 | 20.2% |
| | | 1463 | 738 | 50.4% | $272,801.67 | $34,455.78 | 12.6% |
| | | | | | | | |
| Home | | | | | | | |
| Prob | | #Bets | #Won | %Won | $Bet | $Profit | %ROI |
| 0 | 0.1 | 0 | 0 | #DIV/0! | $- | $- | #DIV/0! |
| 0.1 | 0.2 | 14 | 0 | 0.0% | $689.66 | -$689.66 | -100.0% |
| 0.2 | 0.3 | 50 | 13 | 26.0% | $3,606.15 | $768.37 | 21.3% |
| 0.3 | 0.4 | 76 | 29 | 38.2% | $7,694.03 | $4,324.32 | 56.2% |
| 0.4 | 0.5 | 86 | 40 | 46.5% | $11,122.11 | $3,254.22 | 29.3% |
| 0.5 | 0.6 | 142 | 76 | 53.5% | $24,329.86 | $3,834.27 | 15.8% |
| 0.6 | 0.7 | 152 | 89 | 58.6% | $31,129.02 | $2,105.66 | 6.8% |
| 0.7 | 0.8 | 133 | 100 | 75.2% | $37,333.19 | $7,439.33 | 19.9% |
| 0.8 | 0.9 | 103 | 87 | 84.5% | $39,923.92 | $6,772.12 | 17.0% |
| 0.9 | 1 | 19 | 18 | 94.7% | $10,494.24 | $1,118.40 | 10.7% |
| | | 775 | 452 | 58.3% | $166,322.18 | $28,927.03 | 17.4% |
| | | | | | | | |
| Odds | | #Bets | #Won | %Won | $Bet | $Profit | %ROI |
| 1 | 1.4 | 103 | 89 | 86.4% | $36,625.25 | $3,924.39 | 10.7% |
| 1.4 | 1.6 | 102 | 81 | 79.4% | $29,683.10 | $6,352.59 | 21.4% |
| 1.6 | 1.8 | 115 | 79 | 68.7% | $26,225.43 | $6,542.39 | 24.9% |
| 1.8 | 2 | 94 | 52 | 55.3% | $19,231.55 | -$182.16 | -0.9% |
| 2 | 2.2 | 63 | 38 | 60.3% | $12,502.79 | $3,555.62 | 28.4% |
| 2.2 | 2.5 | 65 | 28 | 43.1% | $11,954.11 | -$1,357.34 | -11.4% |
| 2.5 | 3 | 68 | 36 | 52.9% | $10,051.86 | $5,249.57 | 52.2% |
| 3 | 3.5 | 52 | 19 | 36.5% | $8,115.58 | $1,976.58 | 24.4% |
| 3.5 | 5 | 65 | 22 | 33.8% | $7,524.30 | $2,566.46 | 34.1% |
| 5 | 20 | 48 | 8 | 16.7% | $4,408.22 | $298.94 | 6.8% |
| | | 775 | 452 | 58.3% | $166,322.18 | $28,927.03 | 17.4% |
| | | | | | | | |
| Overlay | | #Bets | #Won | %Won | $Bet | $Profit | %ROI |
| 0 | 0.075 | 113 | 71 | 62.8% | $18,536.18 | -$143.42 | -0.8% |
| 0.075 | 0.1 | 105 | 77 | 73.3% | $16,472.33 | $3,526.09 | 21.4% |
| 0.1 | 0.125 | 80 | 51 | 63.8% | $16,662.98 | $2,240.83 | 13.4% |
| 0.125 | 0.15 | 72 | 44 | 61.1% | $15,365.13 | $1,452.47 | 9.5% |
| 0.15 | 0.2 | 100 | 61 | 61.0% | $22,220.94 | $3,786.94 | 17.0% |
| 0.2 | 0.25 | 68 | 38 | 55.9% | $15,241.93 | $3,822.44 | 25.1% |
| 0.25 | 0.3 | 65 | 38 | 58.5% | $17,184.99 | $4,080.20 | 23.7% |
| 0.3 | 0.4 | 71 | 31 | 43.7% | $18,672.07 | $1,943.73 | 10.4% |
| 0.4 | 0.6 | 66 | 31 | 47.0% | $17,003.27 | $7,270.56 | 42.8% |
| 0.6 | 3 | 35 | 10 | 28.6% | $8,962.36 | $947.19 | 10.6% |
| | | 775 | 452 | 58.3% | $166,322.18 | $28,927.03 | 17.4% |
| | | | | | | | |
| Away | | | | | | | |
| Prob | | #Bets | #Won | %Won | $Bet | $Profit | %ROI |
| 0 | 0.1 | 7 | 0 | 0.0% | $111.18 | -$111.18 | -100.0% |
| 0.1 | 0.2 | 44 | 6 | 13.6% | $1,838.99 | $1,323.88 | 72.0% |
| 0.2 | 0.3 | 80 | 19 | 23.8% | $5,386.13 | $1,291.47 | 24.0% |
| 0.3 | 0.4 | 121 | 36 | 29.8% | $12,233.48 | -$446.57 | -3.7% |
| 0.4 | 0.5 | 115 | 48 | 41.7% | $15,159.61 | $1,297.62 | 8.6% |
| 0.5 | 0.6 | 121 | 58 | 47.9% | $19,187.67 | $526.60 | 2.7% |
| 0.6 | 0.7 | 94 | 44 | 46.8% | $20,616.31 | -$1,766.90 | -8.6% |
| 0.7 | 0.8 | 79 | 54 | 68.4% | $21,315.74 | $2,317.25 | 10.9% |
| 0.8 | 0.9 | 26 | 20 | 76.9% | $10,037.83 | $978.06 | 9.7% |
| 0.9 | 1 | 1 | 1 | 100.0% | $592.54 | $118.51 | 20.0% |
| | | 688 | 286 | 41.6% | $106,479.48 | $5,528.75 | 5.2% |
| | | | | | | | |
| Odds | | #Bets | #Won | %Won | $Bet | $Profit | %ROI |
| 1 | 1.4 | 20 | 17 | 85.0% | $5,781.28 | $704.82 | 12.2% |
| 1.4 | 1.6 | 57 | 35 | 61.4% | $14,287.30 | -$1,042.16 | -7.3% |
| 1.6 | 1.8 | 63 | 38 | 60.3% | $14,948.16 | $901.68 | 6.0% |
| 1.8 | 2 | 56 | 29 | 51.8% | $10,582.84 | $835.93 | 7.9% |
| 2 | 2.2 | 59 | 29 | 49.2% | $9,348.00 | -$470.81 | -5.0% |
| 2.2 | 2.5 | 80 | 41 | 51.3% | $13,920.40 | $929.44 | 6.7% |
| 2.5 | 3 | 71 | 29 | 40.8% | $10,184.90 | $1,757.87 | 17.3% |
| 3 | 3.5 | 69 | 22 | 31.9% | $7,689.11 | $617.74 | 8.0% |
| 3.5 | 5 | 113 | 30 | 26.5% | $12,513.89 | -$575.62 | -4.6% |
| 5 | 20 | 100 | 16 | 16.0% | $7,223.59 | $1,869.87 | 25.9% |
| | | 688 | 286 | 41.6% | $106,479.48 | $5,528.75 | 5.2% |
| | | | | | | | |
| Overlay | | #Bets | #Won | %Won | $Bet | $Profit | %ROI |
| 0 | 0.075 | 79 | 36 | 45.6% | $5,755.98 | -$427.15 | -7.4% |
| 0.075 | 0.1 | 75 | 37 | 49.3% | $8,316.22 | $81.36 | 1.0% |
| 0.1 | 0.125 | 61 | 33 | 54.1% | $7,934.78 | $1,540.24 | 19.4% |
| 0.125 | 0.15 | 56 | 27 | 48.2% | $7,795.00 | -$166.35 | -2.1% |
| 0.15 | 0.2 | 97 | 49 | 50.5% | $14,755.72 | $2,690.80 | 18.2% |
| 0.2 | 0.25 | 60 | 20 | 33.3% | $8,760.44 | -$847.65 | -9.7% |
| 0.25 | 0.3 | 66 | 24 | 36.4% | $12,842.61 | -$1,127.36 | -8.8% |
| 0.3 | 0.4 | 81 | 26 | 32.1% | $16,176.20 | -$575.40 | -3.6% |
| 0.4 | 0.6 | 69 | 21 | 30.4% | $14,105.07 | $1,463.13 | 10.4% |
| 0.6 | 3 | 44 | 13 | 29.5% | $10,037.47 | $2,897.14 | 28.9% |
| | | 688 | 286 | 41.6% | $106,479.48 | $5,528.75 | 5.2% |