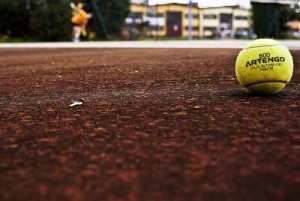 The ATP tennis season starts in only a few days with the Hopman Cup set to start on new years day. Previously I had a look at how the new model had done last year with good results.
Today, I have the results going back to the start of 2005. Results are shown below, and I'll give a brief description of them first.
Profits for when the probability was between 0 and 0.1 was obviously negative. With 270 bets and only 5 winners, it is of course highly recommended to leave these matches alone. A lot of the bets are at massive odds, that realistically have little chance to win. This is shown in the odds category where betting on players with odds greater than 7.5 resulted in a loss.
Profits seemed to increase with great overlays and I would imagine that this would further be highlighted if the zero to 0.1 probability bets were not in the sample.
A minimum overlay of 15% might well be the optimum for probabilities 10% to 30%, and in fact that is what the suggested bets and betting history will show.
| Prob | | #Bets | #Won | %Won | $Bet | $Profit | %ROI |
| --- | --- | --- | --- | --- | --- | --- | --- |
| 0 | 0.1 | 270 | 5 | 1.90% | $6,080.55 | -$3,462.79 | -56.90% |
| 0.1 | 0.2 | 808 | 87 | 10.80% | $39,215.37 | $373.79 | 1.00% |
| 0.2 | 0.3 | 1209 | 244 | 20.20% | $82,855.81 | $10,993.71 | 13.30% |
| 0.3 | 0.4 | 1482 | 445 | 30.00% | $136,613.29 | $6,016.66 | 4.40% |
| 0.4 | 0.5 | 1715 | 636 | 37.10% | $206,894.21 | $3,776.95 | 1.80% |
| 0.5 | 0.6 | 1377 | 677 | 49.20% | $230,447.70 | $17,601.11 | 7.60% |
| 0.6 | 0.7 | 1137 | 668 | 58.80% | $222,172.69 | $9,743.75 | 4.40% |
| 0.7 | 0.8 | 907 | 631 | 69.60% | $232,222.07 | $17,415.11 | 7.50% |
| 0.8 | 0.9 | 681 | 536 | 78.70% | $250,970.27 | $10,842.32 | 4.30% |
| 0.9 | 1 | 282 | 248 | 87.90% | $158,676.45 | $6,192.29 | 3.90% |
| | TOTAL | 9868 | 4177 | 42.30% | $1,566,148.40 | $79,492.91 | 5.10% |
| | | | | | | | |
| Odds | | #Bets | #Won | %Won | $Bet | $Profit | %ROI |
| 1 | 1.4 | 921 | 764 | 83.00% | $349,926.76 | $15,135.42 | 4.30% |
| 1.4 | 1.6 | 805 | 559 | 69.40% | $206,926.76 | $5,204.13 | 2.50% |
| 1.6 | 1.8 | 799 | 513 | 64.20% | $159,278.74 | $14,859.49 | 9.30% |
| 1.8 | 2.2 | 1100 | 591 | 53.70% | $185,092.15 | $9,983.50 | 5.40% |
| 2.2 | 2.5 | 1013 | 437 | 43.10% | $149,577.63 | $3,975.98 | 2.70% |
| 2.5 | 3 | 1270 | 489 | 38.50% | $169,065.06 | $17,318.02 | 10.20% |
| 3 | 4 | 1428 | 438 | 30.70% | $156,859.80 | $4,848.55 | 3.10% |
| 4 | 5 | 719 | 157 | 21.80% | $63,775.33 | $1,436.71 | 2.30% |
| 5 | 7.5 | 832 | 153 | 18.40% | $68,628.52 | $7,958.27 | 11.60% |
| 7.5 | 100 | 981 | 76 | 7.70% | $57,017.63 | -$1,227.16 | -2.20% |
| | TOTAL | 9868 | 4177 | 42.30% | $1,566,148.40 | $79,492.91 | 5.10% |
| | | | | | | | |
| Overlay | | #Bets | #Won | %Won | $Bet | $Profit | %ROI |
| 0 | 0.075 | 1400 | 804 | 57.40% | $177,990.66 | $8,561.77 | 4.80% |
| 0.075 | 0.1 | 1205 | 657 | 54.50% | $168,810.25 | $9,826.85 | 5.80% |
| 0.1 | 0.125 | 974 | 504 | 51.70% | $150,450.64 | $6,318.34 | 4.20% |
| 0.125 | 0.15 | 825 | 389 | 47.20% | $136,818.35 | $2,120.63 | 1.50% |
| 0.15 | 0.2 | 1256 | 538 | 42.80% | $196,062.10 | $8,848.73 | 4.50% |
| 0.2 | 0.25 | 969 | 391 | 40.40% | $165,759.81 | $8,594.11 | 5.20% |
| 0.25 | 0.3 | 656 | 231 | 35.20% | $114,563.01 | $1,290.95 | 1.10% |
| 0.3 | 0.4 | 868 | 294 | 33.90% | $152,499.69 | $14,343.89 | 9.40% |
| 0.4 | 0.6 | 891 | 238 | 26.70% | $161,940.72 | $10,325.60 | 6.40% |
| 0.6 | 4 | 823 | 131 | 15.90% | $140,572.74 | $9,942.45 | 7.10% |
| | TOTAL | 9867 | 4177 | 42.30% | $1,565,467.98 | $80,173.33 | 5.10% |
| | | | | | | | |
| Overlay | Prob 0-0.2 | #Bets | #Won | %Won | $Bet | $Profit | %ROI |
| 0 | 0.1 | 111 | 10 | 9.00% | $1,360.89 | -$435.68 | -32.00% |
| 0.1 | 0.15 | 90 | 8 | 8.90% | $1,510.20 | -$388.31 | -25.70% |
| 0.15 | 0.2 | 108 | 16 | 14.80% | $2,455.59 | $703.16 | 28.60% |
| 0.2 | 0.25 | 85 | 9 | 10.60% | $2,435.31 | -$122.03 | -5.00% |
| 0.25 | 0.35 | 125 | 11 | 8.80% | $4,150.59 | -$410.67 | -9.90% |
| 0.35 | 0.5 | 176 | 16 | 9.10% | $8,104.21 | -$374.65 | -4.60% |
| 0.5 | 0.6 | 84 | 6 | 7.10% | $4,333.08 | -$641.25 | -14.80% |
| 0.6 | 0.75 | 87 | 7 | 8.00% | $5,096.42 | $276.30 | 5.40% |
| 0.75 | 1 | 82 | 3 | 3.70% | $5,347.98 | -$2,486.94 | -46.50% |
| 1 | 4 | 130 | 6 | 4.60% | $10,501.65 | $791.08 | 7.50% |
| | TOTAL | 1078 | 92 | 8.50% | $45,295.92 | -$3,088.99 | -6.80% |
| | | | | | | | |
| Overlay | Prob 0.1-0.2 | #Bets | #Won | %Won | $Bet | $Profit | %ROI |
| 0 | 0.1 | 96 | 10 | 10.40% | $1,289.74 | -$364.53 | -28.30% |
| 0.1 | 0.15 | 67 | 8 | 11.90% | $1,347.95 | -$226.06 | -16.80% |
| 0.15 | 0.2 | 80 | 16 | 20.00% | $2,168.07 | $990.69 | 45.70% |
| 0.2 | 0.25 | 66 | 8 | 12.10% | $2,202.99 | -$145.83 | -6.60% |
| 0.25 | 0.35 | 90 | 11 | 12.20% | $3,567.83 | $172.09 | 4.80% |
| 0.35 | 0.5 | 138 | 14 | 10.10% | $7,335.59 | -$632.19 | -8.60% |
| 0.5 | 0.6 | 61 | 5 | 8.20% | $3,760.12 | -$655.05 | -17.40% |
| 0.6 | 0.75 | 62 | 6 | 9.70% | $4,328.38 | $295.60 | 6.80% |
| 0.75 | 1 | 63 | 3 | 4.80% | $4,792.98 | -$1,931.94 | -40.30% |
| 1 | 4 | 85 | 6 | 7.10% | $8,421.71 | $2,871.01 | 34.10% |
| | TOTAL | 808 | 87 | 10.80% | $39,215.37 | $373.79 | 1.00% |
| | | | | | | | |
| Overlay | Prob 0.2-0.3 | #Bets | #Won | %Won | $Bet | $Profit | %ROI |
| 0 | 0.1 | 227 | 51 | 22.50% | $5,293.21 | -$251.41 | -4.70% |
| 0.1 | 0.15 | 150 | 28 | 18.70% | $5,335.41 | -$971.12 | -18.20% |
| 0.15 | 0.2 | 157 | 35 | 22.30% | $7,593.57 | $316.79 | 4.20% |
| 0.2 | 0.25 | 103 | 24 | 23.30% | $6,092.63 | $801.26 | 13.20% |
| 0.25 | 0.35 | 155 | 31 | 20.00% | $11,192.80 | $198.60 | 1.80% |
| 0.35 | 0.5 | 150 | 31 | 20.70% | $13,427.05 | $1,953.83 | 14.60% |
| 0.5 | 0.6 | 62 | 17 | 27.40% | $6,650.09 | $4,512.18 | 67.90% |
| 0.6 | 0.75 | 82 | 14 | 17.10% | $9,606.00 | $1,529.46 | 15.90% |
| 0.75 | 1 | 62 | 4 | 6.50% | $7,993.57 | -$4,009.06 | -50.20% |
| 1 | 4 | 61 | 9 | 14.80% | $9,671.47 | $6,913.19 | 71.50% |
| | TOTAL | 1209 | 244 | 20.20% | $82,855.81 | $10,993.71 | 13.30% |
| | | | | | | | |
| Overlay | Prob 0.3-0.4 | #Bets | #Won | %Won | $Bet | $Profit | %ROI |
| 0 | 0.1 | 301 | 108 | 35.90% | $10,964.17 | $990.40 | 9.00% |
| 0.1 | 0.15 | 238 | 76 | 31.90% | $13,474.79 | $307.47 | 2.30% |
| 0.15 | 0.2 | 196 | 54 | 27.60% | $14,726.02 | -$1,086.34 | -7.40% |
| 0.2 | 0.25 | 184 | 55 | 29.90% | $16,533.88 | $670.11 | 4.10% |
| 0.25 | 0.35 | 212 | 69 | 32.50% | $23,528.11 | $4,894.55 | 20.80% |
| 0.35 | 0.5 | 173 | 50 | 28.90% | $24,104.62 | $3,923.07 | 16.30% |
| 0.5 | 0.6 | 46 | 10 | 21.70% | $7,211.39 | -$241.99 | -3.40% |
| 0.6 | 0.75 | 55 | 12 | 21.80% | $9,778.40 | $551.16 | 5.60% |
| 0.75 | 1 | 49 | 9 | 18.40% | $9,734.73 | -$306.07 | -3.10% |
| 1 | 4 | 28 | 2 | 7.10% | $6,557.17 | -$3,685.71 | -56.20% |
| | TOTAL | 1482 | 445 | 30.00% | $136,613.29 | $6,016.66 | 4.40% |
| | | | | | | | |
| Overlay | Prob 0.3-0.4 | #Bets | #Won | %Won | $Bet | $Profit | %ROI |
| 0 | 0.1 | 375 | 151 | 40.30% | $20,286.42 | -$406.73 | -2.00% |
| 0.1 | 0.15 | 336 | 131 | 39.00% | $27,868.06 | -$905.50 | -3.20% |
| 0.15 | 0.2 | 257 | 97 | 37.70% | $28,160.57 | -$383.43 | -1.40% |
| 0.2 | 0.25 | 194 | 74 | 38.10% | $25,864.12 | $665.91 | 2.60% |
| 0.25 | 0.35 | 260 | 97 | 37.30% | $40,834.71 | $3,164.18 | 7.70% |
| 0.35 | 0.5 | 163 | 49 | 30.10% | $31,400.11 | -$2,024.05 | -6.40% |
| 0.5 | 0.6 | 54 | 16 | 29.60% | $11,811.20 | $227.01 | 1.90% |
| 0.6 | 0.75 | 24 | 5 | 20.80% | $5,708.33 | -$1,311.98 | -23.00% |
| 0.75 | 1 | 27 | 11 | 40.70% | $7,287.18 | $4,892.26 | 67.10% |
| 1 | 4 | 25 | 5 | 20.00% | $7,673.52 | -$140.71 | -1.80% |
| | TOTAL | 1715 | 636 | 37.10% | $206,894.21 | $3,776.95 | 1.80% |