Tennis record wins and NFL
Model
,
Sport Models
|
admin
| September 5, 2011 at 12:18 pm
---
US Open creates record breaking profits
The Sportspunter tennis model has never seen a better week that the one just gone, the first week of the US Open. It was the massive outsiders that came up trumps in both the men's and the women's tournaments. For the men we had big winners on Junqueira (5.23), Ferrero (5.23),  Monaco (4.23), Muller (4.01), Kunitsyn (3.73) and Sock (3.04). The womens tournament weren't without their share of winners with Pennetta (5.17), Lucic (4.05) and Soler-Espinosa (2.80), along with plenty of odds on favourites winning.
The men's tennis model is now up 5% ROI for the year, and incredibly up 9% since the Australian Open earlier in the year, and has profits of 14% ROI for the past two months. The women's model also has profits of 6% ROI since mid June this year.
There are just a couple of months of tennis left to go in the year, so there's every opportunity to jump on board while the going is good. Click here for more information or here for the betting results.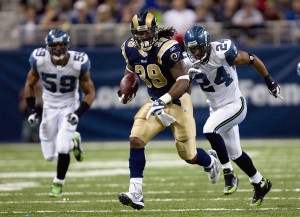 NFL set to start this Thursday
Sportpunter's NFL season is set to start this Thursday. And once again it will be free of charge for the first few weeks of the year. Last year, in our inaugural year for the model, we made a decent profit. We only just made a very small profit in head to head betting (0.2%), but did very well on the totals, tallying up 6.8% ROI. Not bad for late lines!
One of the benefits of the NFL model is that it takes into considering weather, which has a large effect on teams as well as scoring opportunities.
This year we will hopefully do as good or better as last year, and all the details for the up coming season is shown on the website here. An analysis of last years results will be on the website shortly.