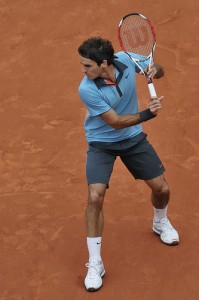 With Wimbledon just about to start, it is interesting that not many people know or understand the dynamics between a 5 set and 3 set match. Only 4 times a year, not including a couple of one-off finals matches are 5 set matches held for men, and the difference between betting favourites and underdogs on 5 set matches is vastly different to the best of 3 set format.
Truth is, that with a 5 set match, a favourite is more likely to win the match. It makes perfect sense. If you consider a player and a probability to win a certain point, then one can easily calculate the probability to win the game, set and then match. The more sets in the match, the more likely that a person is going to win if his probability of winning a point is higher.
For example, if a player is a 55% chance to win any point on serve, whilst their opponent is only a 50% chance to win any point on serve, then the first mentioned player is a 75.1% chance to win the match for a best of 3 sets match, and a 79.9% chance to win the match for a best of 5 set match.
The difference may not seem like a lot, but it is enough to get enough people confused.
Data over the past 6 years has shown that actually betting on the favourites in a 5 set match without any other information is in fact profitable. With a database of nearly 3000 bets, if one were to bet to win $500 on every match, then should all the bets be on the favourite, then you would have made a very handy 2.1% ROI. This equates to a profit of $224,383.00. Pretty nice indeed.
On the other hand, had you bet to win $500 of every underdog in a 5 set match, then you would have seen yourself out of pocket 10.3% ROI, or a loss of $58,621. Ouch. Interestingly the win amount is greater than the loss because of some large bets on short priced favourites.
Also, if one were to bet $500 straight up on all the favourites of 5 set matches, then one would have made 1.5% ROI or $20,855 over the past 5-6 years. Losses of 22.7% ROI or a massive loss of $321,230 would have been made if one were simply betting on the underdog at $500 a pop.
These are incredible numbers, and goes to show that the general public underrate the favourite when it comes to 5 set betting. Keep this in mind when betting on a favourite at Wimbledon.
Sportpunter's tennis model is available for subscription.