World Cup 2010: The cream rises to the Top
Blog
,
Gambling Blog
|
sportpunter
| July 1, 2010 at 12:53 pm
---
I know it's been a while between drinks for myself i'm afraid and I do apologise for the lack of updates. It has nothing, I can assure you, to do with the mighty Socceroos going down in the group stages like some of my English compatriots have suggested. Unlike the English, I had no pretences of glory for Australia at South Africa 2010. I am actually quite proud of the lads, fighting back from an absolute mauling in game 1 to getting the chocolates against both Ghana and Serbia (the Serbia game was particularly special).  Australia not going through can be put down 100 percent to a lack of historical knowledge on how to win a world cup. You simply do not see the good teams concede red cards and penalties when it matters.  Australian's would say we were unlucky. I would suggest we were naive. We finished the tournament probably around where we should have, competitively and in the group stages. Let's be honest.  Did we really want to get in the way of Germany, Argentina, Spain and Brazil… me thinks not.
So let's get down to the round of 16. No upsets and no surprises… history repeats… again.
Uruguay v Korea – this was the easiest quarter of the draw (rankings wise anyway) in lieu of France self destructing in front of 7 billion people and Nigeria not coming to the party. The French provided more enjoyment for me personally than most of the games of the World Cup so far. A Twilight novel seems more realistic than what happened in France; Nicolas Anelka (who is an A grade jerk mind you) calls the France Coach a loser, who proceeds to boot him out of the tournament. The players, in protest, boycott a training session like spoilt Brangelina children… and needless to say, their minds are not on the job. They lose to get this, South Africa, and finish bottom of their group. The debacle kicks off in France even reaching question time in French parliament. The French President, Nicolas Sarkozy, calls Thierry Henry in to the Presidential rooms to probe him on the affairs, the French FA President quits his job, and the French Sports Minister orders a parliamentary enquiry. And now, the icing on the cake, Sep Blatter is threatening to ban the French team from FIFA because political interference is frowned upon.
Oh, and Uruguay won.
USA v Ghana – This was a ripper of a game; tight and nervy with Ghana getting over the line thanks to a wonderful run and finish by Gyan. Aussie supporters should know him as he absolutely terrorised Lucas Neil and co in the 90 minutes he played against us. He has 3 tournament goals and I think he will score again against Uruguay. America might have snatched this had they been a bit more clinical but no one wants to see the Sepos do well in a code they so adamantly ignore. And besides, if they do become good, instead of idolising men with great names like Ronaldihno and Batistuta, we will have to start chortling the praises of men named Chad or Connor or Ashton.
Holland v Slovakia – Slovakia were brave but were never in the hunt. Holland's performances have been much lamented in their home country due to their boring structured play. I don't know about you guys, but it seems like every nation in the world is now playing this 4-3-3 formation. It sounds attacking but it is anything but. Holland is famous throughout the world for playing attacking flamboyant "Total Football"; but not this World cup. They are effective sure, but only Robben seems to be prepared to run at defenders, and they definitely passed the style baton over to Chile this summer. Saying that, they still ruthlessly progressed to the quarters, and if they do a number on Brazil, then they will become favourites to win. I did pick them at the start of the tournament in one of my previous rants, but having watched their formation and style, I sadly retract my statement. For me, Van Persie is not good enough to run the line on his own and Sneijder just can't seem to control that jabulani ball. Let's hope they have a real crack at Brazil.
Brazil v Chile – What a fun match to watch! Chile stole the show in the first half of the tournament, and I have no qualms at all in saying that I have a man crush on Alexis Sanchez, or "El Niño Maravilla" (the Wonder Boy). He tore the tournament to shreds and it's a shame they had to play Brazil so early in the tournament.  Which brings me to Brazil…Brazil are pure class. They play with fluidity and style, their goals are great and their defense is rock solid. Their players have personality and they have the best kit in World Football. I do not want to spend too long on Brazil because I know I will be writing about their mouth watering ability next week when the semi finals come, so I will leave it there.
Argentina v Mexico – You have to love the Argies… Messi has done absolutely everything except score, Tevez is in career best form and Gonzalo Higuain has 4 goals including a hat trick! Firepower indeed. Their clash with Germany is going to be the match of the tournament, so don't miss it!
ENGLAND v Germany – Oh what a playful little romp this was. England was exposed on grandest stage of all and the way it happened made you cringe. How the Premier League cannot produce a quality team is beyond me. How slow is Gareth Barry, why can't Milner as a specialist winger cross the ball, why can't Gerrard re-produce those Champions League performances, what was with that first goal (a kickout from the German keeper),  why is David Beckham wearing a vest all the time, why doesn't world cup experience ever seem to help David James, what the hell was Upson doing on the pitch, how did Frank Lampard get such a good tan in such a short time, what was with Rooney's first touch every time he was played in, and finally, did Defoe actually touch the ball. Once again, we all believed the hype about England, and I was one of them. I thought a great manager in Capello could get the best out of the team, but it looks like no one can. I still can't believe the FA passed on Guus Hiddink when he was available. Hindsight is a wonderful think, but we should have looked at the stats before we gave England a chance against Germany. I mean, England have not finished above Germany in a World Cup since they won the tournament in 1966! And you will notice I failed to mention the disallowed goal, because it would not have changed the result.
On a brighter note, Mannschaft played with flair, looked damaging on the counter attack and Ozil will be at Man United, Barcelona or Real Madrid next season – he is that good!!! The way he burnt England on a number of occasions just left your jaw bone hanging on the ground. But tell me he doesn't look like Codfix from the Asterix comics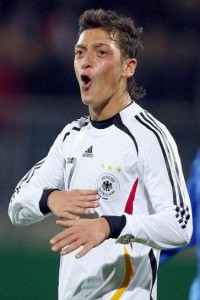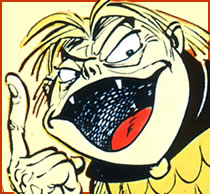 Did I mention England were awful…. Well they were…. Upson… what the hell…..
Paraguay v Japan – I am skipping this match because I have not seen a single minute of it (other than the Japanese guy hitting the bar in the penalty shoot out, I have seen that footage ten times already). Good on Paraguay for mixing it with the big boys, and I hope they give Spain a run.
Spain v Portugal – What a snooze from Portugal. So many good players being forced to play a boring, flat style of football. Carlos Queiroz the Portugal manager should be shot for not getting the best out Ronaldo and co. He was a nobody number two to Sir Alex at United for more years than I can remember, he was useless at Real Madrid as a Manager, he was a nobody again at United when he returned for a second stint, and why would he come to the world cup with Cristiano Ronaldo in his team with a defensive game plan is beyond me. As for Ronaldo, he should have a look at Alexis Sanchez for inspiration next time…
Spain did what they had to do, Barca looks like they have a real quality signing in David Villa, who has scored a couple of real gems this tournament. I am still angry at Torres for giving us the worst, most pathetic dive of the tournament. If his face wasn't buried in the grass clutching his leg like he had been shot, he actually would have seen his Spanish team mates score a match winning goal. But the stars seem to be aligning for Spain. They are getting better every game, and they are now making the quarter finals of tournaments without playing well, the way the real teams do it.
My quarter final predictions:
Uraguay   2  v Ghana  1          (Gyan to score)
Brazil    1   v    Netherlands   1   (Brazil go through in extra time)
Argentina  2   v   Germany   1  (I just get the feeling Argentina are due)
Spain   1   v     Paraguay   0
The above is written by Dylan Evans, a friend of Sportpunter.com