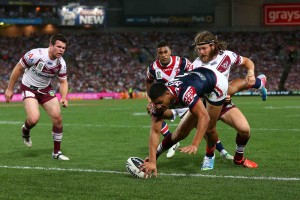 The NRL season 2015 starts this Thursday, and if last years results are anything to go by, you should sign up. 2014, saw Sportpunter completely upgrade our model and have a player based approach. This especially helped during origin times, and most definitely increased the profits across the board.
H2h betting was once again as per normal the standout, making 10.9% ROI from 150 bets. Big outside winners came throughout the season including a big win on St .George in round 2 (3.56), a standout win on Newcastle in round 22 (4.58) and a massive win on Gold Coast in round 3 at odds of 2.73 when we rated them a 73% chance to win.
Full betting histories and subscriptions are available on the Sportpunter NRL webpage, so make sure that you sign up. Details here: http://www.sportpunter.com/sports/rugby-league/
AFL preseason predictions are up
The AFL preseason has already started, and predictions are available for every game based on the squads available. Of course the pre season isn't the same as regular and we recommend you bet with caution (e.g. Hawthorn had 3 last withdrawals of their best defender, midfielder and forward last weekend). However, plenty of people in the past have found a good edge with the preseason, and if you sign up to Sportpunter's AFL now, then you too can get the predictions for this weekend. Details here: http://www.sportpunter.com/sports/afl/
NBA Model winnings
The NBA model has been on absolute fire for the past 2 months. Head to head betting has made an amazing 10.3% ROI this year from 544 bets, whilst line betting has made an incredible 7.4% ROI. Last week we scored some massive h2h wins with New York getting up against Toronto at odds of 8.04, and again against Detroit at odds of 12.25. New Orleans also defeated Toronto at odds of 3.69 for a very nice payout.
We've had 6 winning weeks in a row for line betting, and whilst totals betting hasn't performed that well this year (although the first month was fantastic), it made a good comeback last weekend. With the model traditionally performing weaker in the second half of the season, it might be the best time to join up, but keep the NBA in the back of your thoughts for the next season
Details are shown here: http://www.sportpunter.com/sports/basketball/nba/