Tennis Serving Speed Male vs Female
Blog
,
Gambling Blog
|
admin
| January 10, 2013 at 1:28 pm
---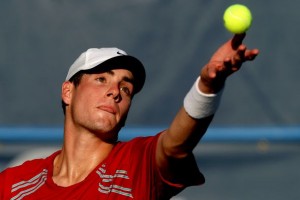 It's well documented and observed that on average male tennis players serve faster than females. This is common sense considering that males are much more stronger than females. But how much difference is there really and can the strongest female out serve the weakest male?
Shown below is a graph showing the distribution of female and male players for their average fastest serve per match.  What we see here is that males on first serve average around 201 km/h, whilst females average 168 km/h, and there is a little overlap in the distributions, in that the fastest serving female does out serve the weakest male.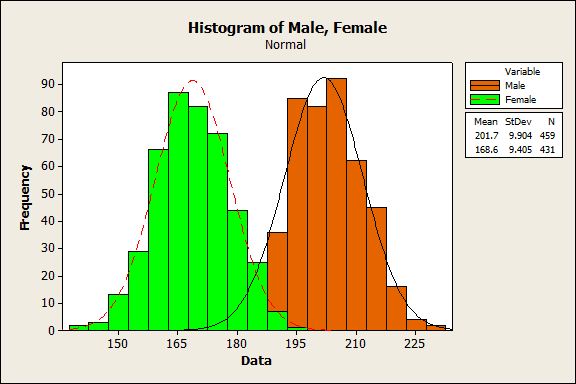 Here are the bottom 5 male servers in regards to speed:
James Lemke
Timo Nieminen
Danai Udomchoke
Christophe Rochus
Flavio Cipolla
Whilst Lemke and Nieminen are virtually unknown, Udomchoke, Rochus and Cipolla are often on the circuit. Christophe Rochus is now retired, but at only 170cm, it must be tough for him to get any kind of service speed. Udomchoke and Cipolla are in the same boat, both standing small at 172cm.
In comparison the top 5 male fastest serves are as follows:
Milos Raonic
John Isner
Andy Roddick
Taylor Dent
Benjamin Becker
This indeed is very interesting. Isner the giant stands at 2.06m, so its understandable where his pace comes from. Raonic also stands tall at 1.96m. Roddick and Dent are meerly 1.86m tall, but the surprise packed is Benjamin Becker, who at only 1.77m is at almost comparable height to the lowest five male tennis servers (with regard to speed).
The five lowest female players are:
Andrea Petkovic
Camille Pin
Antonella Serra Zanetti
Tatiana Panova
Anna Smashnova
At 1.8m tall, Petkovic has no excuses for her slow speed, whilst Smashnova, now retired, would always struggle to get off it at only 1.57m tall.
The top 5 women's servers are:
Venus Williams
Sabine Lisicki
Serena Williams
Nadezda Petrova
Rebecca Marino
At 1.85m, Venus Williams has what it takes to have a great first serve. Her sister Serena, might well be 10cm smaller, but can serve it up as well.
So in conclusion, height is a definite factor in serve speed, maybe moreso for men than women. The fastest serving female does serve faster than the weakest male, but in general, a male will serve on average 33 km / h faster than a female.