Cricket world cup 2011 – who will win?
Blog
,
Gambling Blog
|
admin
| February 18, 2011 at 10:55 am
---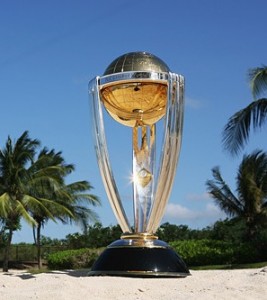 The world cup of cricket is about to start. With 14 nations being represented in India, Sri Lana and Bangladesh, it should be a cracker of a tournament. Sportpunter are predicting every single match and we have them for free on the website at the moment.
In the season opener we have India a strong 87% chance to defeat Bangladesh, whilst the following day we predict that New Zealand should easily defeat Kenya (97% chance), and Sri Lana should be too good for Canada (98% chance).
We rate Australia as the best one day nation in the world, this is despite their fall from grace as a great test playing team. The ICC agree, they also rank Australia as the best team in the world.
However the favourite to win the cricket world cup is India at odds of 3.95. No doubt this is because of a strong home ground advantage. Sri Lanka are a distant second favourite at 5.80 with South Africa and Australia at 6.4 and 6.6 respectively.
But if the warm up games are anything to go by, India could well be the team to beat, with a thrashing of New Zealand and a massive morale winning comeback against Australia. Sri Lanka on the other hand struggled, with an expected win over the Netherlands, but a narrow victory over the West Indies, who are not expected to cause too much trouble.
South Africa disposed of Australia and Zimbabwe with ease, which puts into question Australia's chances. After dominating against England at home, serious questions has to be asked about Australia's ability to play on the sub-continent without any reputable spinner. They lost their two matches with spinner Krejza claiming only one wicket for 102 runs.
Either way, it should be a great world cup indeed, and as previously mentioned, Sportpunter will be providing predictions at this link for every single game.