What a year! AFL Season 2010: A short review
News
,
Sport News
|
admin
| October 4, 2010 at 12:17 pm
---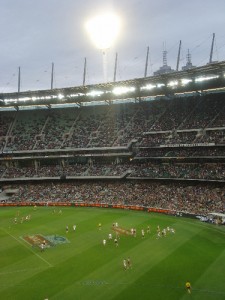 Finally, the AFL season has come to an end with Collingwood running away with the premiership cup. But pies fans were not the only one excited by their season. Sportpunter, it could be argued, also carried off the premiership cup with our biggest wins of any year since the model started in 1999.
Head to head betting won an incredible 26.1% ROI over the year whilst line betting on 17.2% ROI. Simply amazing stuff. Our biggest win of the year came later in the season in round 18, when we predicted Port Adelaide should be rightly favourites at home against the Hawks despite their odds of 3.39. The previous week they had managed to defeat Adelaide at home for another massive collect.
But our biggest line betting win came in the preliminary final, when we bet on the western bulldogs to win or lose by 27.5 points or less. It was the biggest line bet of the season, and at half time it was looking like a good one, with the bulldogs up by 6 points. However, the true saints team came to the front and they blitzed the dogs, and our bet seemed all but lost. Given that the saints had  pretty much already won the bet, they decided to play one short on the ground. Consequently, the bulldogs kicked the last 21 points of the game, the final goal coming after the siren. Mitch Hahn had marked the ball 60 metres out when the siren went. He went for the big torp, which landed 25 metres out and bounced 10 times before going through the sticks. Any of the saints players could have stopped the ball, but it was of no consequence to them – they were already celebrating the victory.
And so was I. It was payback for a similar style bet that we lost at last years grand final.
But it was never luck that made the sportpunter AFL model win huge this year. The Sportpunter model has constantly made profits year after year, and we will be selling the predictions again next year. A full statistical analysis of the year is to come shortly.
We hope you got on board this year, and if not, we'll see you next year no doubt!
For full Sportpunter AFL betting history, click here.