NBL Unders – always underrated, now almost sure things
Blog
,
Gambling Blog
|
admin
| October 18, 2010 at 11:01 am
---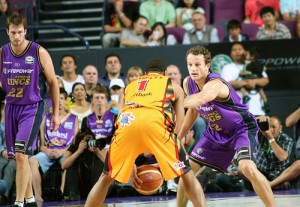 NBL has started for the season 2010/2011 and we have seen amazing results with the Sportpunter model. We've hit 7 from 8 winners, for a massive start to the season including big head to head wins at 3.12 and 2.51.
But it isn't the massive head to head wins that have a lot of people talking, but rather the totals. Every game has been low scoring. In fact, all 5 games so far have gone under the official line. In the final game of the week, Adelaide vs Perth, the final score was an incredible 24.5 points below the totals line.
On average from the five games, the scores went under by 14.5 points. Are scores just naturally low scoring or is there a reason for their low scoring?
There is a reason. During the off season the NBL decided to increase the three point line to be in the same format as the NBA. Hence we should see a smaller amount of three pointers attempted, as well as a smaller percentage of them hit. It's very hard to determine exactly how many points should be accounted for, but one way we can look at it is to look at preseason scores compared to season scores.
In 2009/10 the preseason averaged 172 points per game, as compared to the regular season where 166 points were scored on average. This is 6 points less, and there is reasonable logic to say why preseason might be higher scoring on average than normal. Perhaps because defences are not as tight. However, this is only one season and a very small sample size to come to any real meaningful conclusions.
The 2010/11 preseason averaged 162 points per game with the new rules. This being a full 10 points less than the previous year and 4 points less than last season. So it could be argued that the new three point line rule could make a difference of up to ten points. Perhaps this explains why the unders have gone on average 14.5 points below the official line.
There's a very realistic chance, that the bookies got caught out by this and have been offering normal lines for the totals. No doubt we will be betting a bit more on the unders, which is generally pretty good value. Be cautious of an over-adjustment for this however after the previous week.
Either way, the sportpunter model has been on fire early, picking up 7 wins from 8 bets, and there should be plenty more opportunities to come from this very weak market.
Click here to sign up to the NBL model in 2010/11