World Cup Australian Warm up Review 2010
Blog
,
Gambling Blog
|
sportpunter
| June 2, 2010 at 10:38 pm
---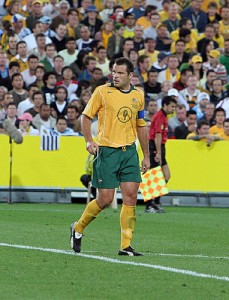 Alright, plenty of interest which is the way it should be. Plenty happening over in South Africa, and we are still nine days away from the action. All teams have arrived and there are friendlies every where.
Here are some interesting things to note from the last 24 hours:
For those that followed the Jose Mourihno era at Chelsea, FLICK THE SWITCH Joey Cole has been named in the England squad. Bumping out young pocket dynamo Theo Walcott, Capello has gone for Joey's experience and ability to run at defenders. Watch out for the most exaggerated step over technique in the game.
Australia's hot rival for the second qualification spot Ghana suffered an embarrassing 4 – 1 defeat to the crazy Dutch. Looking soulless without Chelsea great Michael Essien, Ghana look ripe for the picking. As a side note, get on the Dutch to go deep into the World Cup. Smashing Ghana without the rested Robben, Netherlands definitely has the team to do some real damage. Robben is in the form of his life, Inter's Sneijder is world class, and Kuyt and Van Persie are capable up front
The mighty AUSSIES got off to a winning start against the boring boring Danish. Hot women sure, classy footballers, I don't think so. But a 1 – 0 win is a ripper of a start, keeping a clean sheet and big front man Josh Kennedy continued his ridiculous scoring record for Australia. As far as Australia is concerned, I think Pim has a real headache on his hands. I personally think Australia should build its set up around Kennedy. He scores at will and opposition teams always struggle to match up on him. Being short of a second classic striker, Australia would have to go in with a 4 – 5 – 1 formation. I don't think Pim will go in like this. I think he will go in with Harry the Spaniard Kewell up front with Tim Cahill, and you watch Germany disregard that set up with consummate ease (feel free to disagree)
On the betting front:

Germany $1.50              Australia  $7.00
Ghana $2.40                  Australia  $2.75  (WHAT!)
Serbia $2.25                  Australia  $3.00
So Australia clearly the underdogs (again). Just the way we like it.
Oh and in other news, the Special One, Jose Mourihno, has just signed on to coach Real Madrid. The greatest coach of the modern era coaching the greatest team of the modern era, with a President that has bank rolled Ronaldo, Kaka and Alonso. Watch out for the summer signings. My tip is he will sign many players from England (Frank Lampard or Stevie Gerrard must be high on his list). There are already rumours of Ashley Cole who will mercenary himself no problem for a few extra pounds.
But how exciting is that. The Special One is indeed special. In less than ten years as a coach, he brought Porto two league titles in Portugal and unbelievably a Champions league title. He brought Chelsea the title for the first time in fifty years, then, repeated the dose a year later. Add two Carling Cups and an FA cup, he left with serious credibility. From there he took over Serie A giant Inter Milan. He won back to back league titles and the Champions League title for the first time in something like 65 years. His Italian trophy treble this year has never been done in the history of the Serie A. Only three coaches in history have won the Champions League with two different clubs. You can bet your bottom dollar he will be the first to do it with three. Oh, and who else on the planet who just signed with Real Madrid would state that wants to coach in England again…. What a marvel. My tip, he will take over from Sir Alex Ferguson in around 4 years time.
The above is written by Dylan Evans, a friend of Sportpunter.com