It is at this stage of proceedings where soccer fans world wide should be at a heightened state of enthusiasm. Last World Cup, official figures estimated just over 2.2 billion (yes billion) people watched the greatest show on turf, and a staggering 715 million watched the final. Being lucky enough to witness three glorious cities of Germany come to life at the last World Cup, I can vouch that the tournament is the greatest social experiment of the world today.
HOWEVER, it is with a heavy heart that I must inform you that the tournament has hit a stumbling block the likes of which it has never seen. In fact many sports writers are questioning whether of not the tournament itself should go on in the wake of such extraordinary news. It has circled the world like a plague, poisoning the minds of young children everywhere, who were daring to dream… daring to dream of a better life….
The crème de la crème of modern football is injured. Didier Drogba for all intensive purposes is out of the World Cup.
South Africa 2010 was already reeling from the news that Golden Balls David Beckham, England Captain Rio Ferdinand, Italian playmaker Andrea Pirlo (who had such a memorable Germany tournament) and a host of others will not be present at the finals tournament. I mean, young female Brazilians all over Ipanema Beach in Rio De Janeiro laid out a ceremonial wreath of G-strings, asking the almighty lord of the Ocean to heal Brazilian Keeper Julio Cesar's troublesome back (dramatisation, may not have happened).  And as if I didn't put the moz on the Netherlands in my last report, singing their praises like a church choir… not two days later, their best player and easily the Player of the Champions League this year, Arjen Robben from Bayern Munich, does his hammy and is out of the tournament. I don't care how good their paramedics are, no one recovers from a hammy in less than a month (it should be noted here that they did still manage to beat Hungary 6 – 1 in the match and your money isn't spent yet)
But let's get back to Drogba. He is the Ivorian Coast's Captain, Striker and is currently the best player on the planet bar none. He tore the Premier League to shreds this year, taking the coveted Golden Boot for leading scorer, scored a memorable Hat trick on the last day of the year to win the league for Chelsea, and he scored the only goal in the FA cup final last month (after hitting the woodwork three times mind you). This goal placed him in the upper echelon of greatness, making him the only player ever to score a goal in 6 English Cup finals. And his scoring record for his country is unparalleled in world football. Who else in the tournament can boast 44 goals from 68 appearances for their country?
But he is more than just a mere mortal. To quote Wikipedia, Drogba is credited by many with playing a vital role in bringing peace to his country. After Côte d'Ivoire qualified for the 2006 World Cup, Drogba made a desperate plea to the combatants of his torn nation, asking them to lay down their arms, a plea which was answered with a cease fire after 5 years of civil war. Drogba later helped move an African Cup of Nations qualifier to the rebel stronghold of Bouake a move which has been credited with affirming the peace process. His involvement in the peace process lead to Drogba being named as one of the world's 100 most influential people by Time magazine. And, if that was not enough, his physical appearance is likened to that of a Greek God: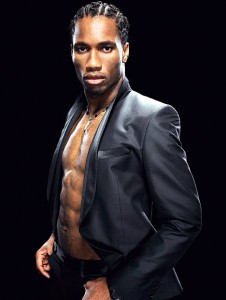 So I think now you can see what this injury has done to tournament officials and local governments. Their potential revenue from ticket sales and tourism is seriously under threat. It was his home continent, it was his tournament… Now the dream is over.
To sum up, we all know the show must go on, but the tournaments reputation has taken a hit. South Africa 2010 has become a kid's birthday party without a birthday cake.
The above is written by Dylan Evans, a friend of Sportpunter.com