Melbourne Storm Salary Cap Breach Predictions
Blog
,
Gambling Blog
|
sportpunter
| April 24, 2010 at 12:11 am
---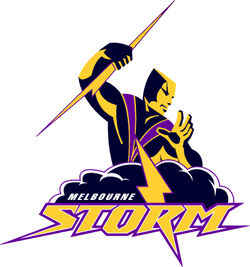 Melbourne Storm's season has been rocked by salary cap breach scandals that have seen them lose not only their current 8 premiership points that they had received from 4 victories this year, but also two of their premierships.
Before news broke of Storms loss of 2010's current premiership points, some smart gamblers backed the Storm to win the wooden spoon at odds of 250 to 1.
So it's a guaranteed situation that Melbourne storm will now finish bottom of the ladder, when they previously were very favoured to win the premiership and unbackable to miss the finals.
This means a couple of things, that other teams now will have an increased probability of making the finals and indeed, winning the premiership. So how much difference will it mean to other teams? We will have a look at that now.
Based on our computer model, Melbourne Storm were a 21% chance to win the premiership and a 92% chance to make the finals. All that is gone now, and other clubs will share in those probabilities.
For the premiership, interestingly, only the top ranked teams seem to have increased in premiership chances. St. George increase from 19.6% chance to win the premiership up to 22.7% chance, an increase of 3.1%. Similarly, Penrith increase from a 6.7% chance to a 10% chance, and Manly increase from a 15.6% chance to 17.8% chance. Sydney roosters and Parramatta also increase, but our computer simulation sees most other clubs as increasing only marginally.
The probability of players making the finals is interesting. All teams increase from as little as 1% for St. George (94.2% to 95.4%) to as much as 6.5% for the Gold Coast (62.5% up to 69%).
Either way, what is clear is that other teams now have an increased chance of making the finals and winning the premiership.
As for Melbourne, well, it's curtains for now.
Click here for the NRL predictions and mathematical model.