With J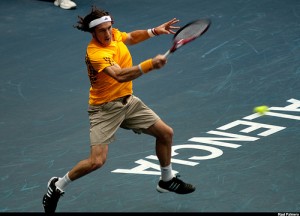 uan Monaco just defeating Juan Ignacio Chela in Santiago 6-3 7-5, there has been a bit of talk in the past about what effect a tennis match has when both players are from the same country.
Both Monaco and Chela are from Argentina, and no doubt hold a good comradery. So what does this mean on the tennis betting circut? Many believe that this means that the match is more likely to play pretty evenly, and if anything therefore, a bet against the favourite holds some value.
So lets do the stats hey? How would we have gone betting to win $100 on the favourite and the underdog or all tennis matches were both players are from the same county. Ther results are interesting.
As it turns out, according to my dataset, since 2005, this has occured 1074 times where I have odds for both players.
So for the favourites, we would have bet in total $416,824.07 for a handy profit of $4,920.87. That is a 1.2% ROI. For the underdog we would have bet $54,692.30 for a massive $24,440.35 loss. Thats a  44.7% ROI negative swing.
Even if we look at matches where the favourite is at odds of 1.5 or greater (thus reducing any favourite/longshot bias), we achieve a 2.9% ROI profit betting on the favourite and a 31.7% ROI loss betting on the underdog.
So there it is. I've debunked that myth. When two tennis players are of the same country and play each other, you are far better off betting the favourite than the underdog.
Sportpunters tennis predictions are available here