AFL Wrap up 2009
Sport Models
|
sportpunter
| October 5, 2009 at 5:30 pm
---
The Australian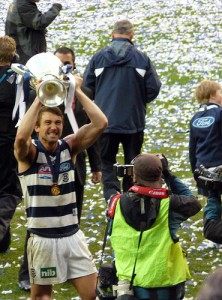 Rules AFL Season for 2009 has finished with Geelong declared the victors over St. Kilda in a tight grand final.
So how did we go in 2009. Here is a brief analysis.
Head to head betting faired the best with 136 bets for 54 winners. Not a great conversion rate at only 39.7%, but most of these were on outsiders. This is shown by a 21% ROI made over the year. This is quite staggering and is our best year yet.
Looking more closely it appears that most of our profit came from the first half of the season. This is not that surprising. Time and time again we were betting on st. Kilda and against hawthorn. It was still 16 rounds into the season and the commentators were going that they "think St. Kilda were the real thing". They'd just won 16 straight, of course they were.
Similarly, hawthorn still had ludicrous odds for them to win the premiership with just a handful of matches to go. Hawthorn's pre season form was nothing short of a disaster and it showed going into the season proper. We suggested betting heavily against the hawks to make the final 8, and considering that odds for this were at about 20/1 it was a very nice win indeed. A big win betting Adelaide against the hawks in round 10 proved a great bet. At 2.35 we rated the crows at 61% to win.
Bets against Carlton were commonplace early, as the media outlined that Carlton would be the next best thing in the media was probably a bit premature. A big bet on Essendon against them in round 3 at odds of 4.10 payed very well. The next week we bet against Carlton again; on Sydney at 2.28 and they came home as well.
Line betting proved successful again with 15.7% ROI made betting the line. Not as high as head to head, but over the years it has proven to be very compatible. Margin betting lost. Although not as many people bet on the margins, one has to wonder why this is the case. Obviously a lot more variation occurs in margin betting as one is often betting at odds of 10/1 plus. Perhaps the nature of the game is changing, or perhaps it is because of the bookmaker's higher vig on the margin odds. I do know one bookmaker who personally told me that he makes 40% of all his profits from AFL margin betting.
So what of 2010? Expect hawthorn to be a very different side. With new recruit Gibson in their side, this should sure up their major weakness last year their defence. Add to that half a dozen players who were out from injury and they should do a lot better. Geelong and St. Kilda are both getting older, and it will be interesting to see how Carlton perform without the Fev. I'd imagine that we would be betting pretty heavily on Melbourne early on. I thought they were a great side last year, but couldn't afford to win games. Richmond as per normal will be overrated and a lot will depend on North Melbourne's team of young midfielders to make sure that they don't bottom out.
Subscriptions for the upcoming 2010 season shall become available soon. Sign up to the email newsletter at the top right of the Sportpunter main page for more information.